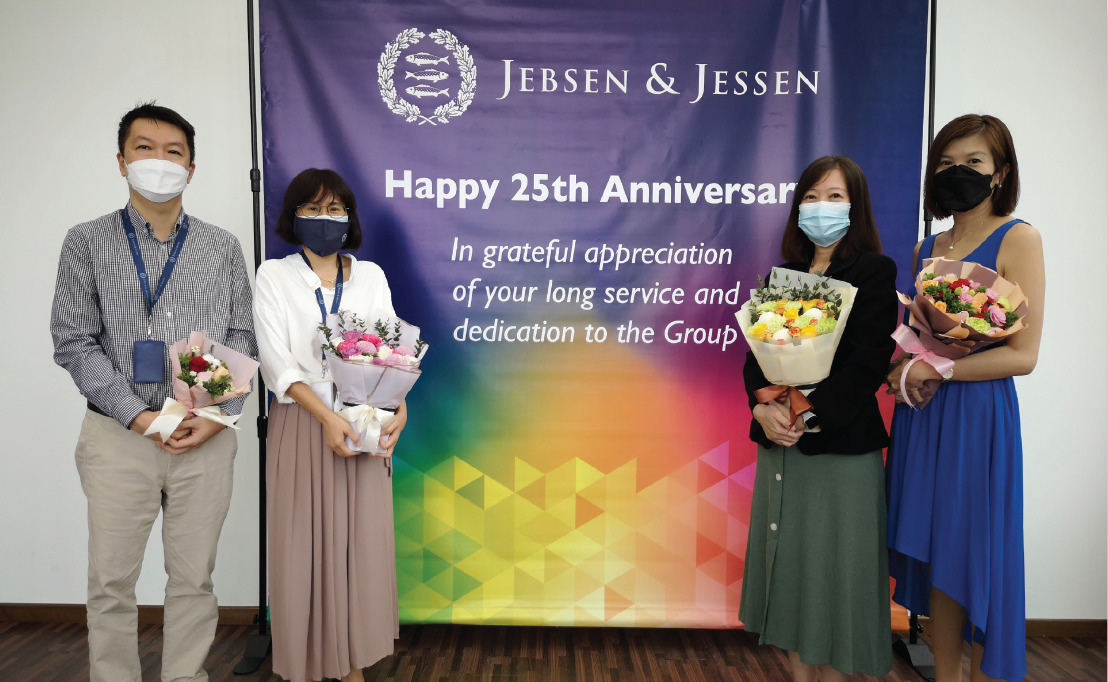 25-Year Long Service Celebrations
Congratulations to the staff who marked their 25th work anniversary with the Group in 2021!
SINGAPORE
Celebration held on March 5, 2021!
Jebsen & Jessen Packaging in Singapore organised a special virtual celebration to commemorate the 25th work anniversary of six long-serving employees. Attended by CEO Chui Tau Siong, General Manager Han Hong Juan, General Manager Keith Chong, General Manager – Operations Tai Wan Yau, RBU Controller Linda Anthonius and colleagues, the event saw a thoughtful slideshow of photos and precious memories. All attendees enjoyed a catered bento lunch set too!
Tan Yin Fah joined us in September 1995 as IPD Operator. While shy and quiet, he has a positive, proactive working attitude.
Sun Ah Kheng joined us in March 1996 as a Packer and has since taken on a role as IPD Operator. She is a sporty lady who is always surrounded by laughter and good cheer.
Hew Jiu Tau joined us in May 1996 as an Accounts Assistant with Insulpack–Styrotek Pte Ltd. She had stints with Jebsen & Jessen Business Services before returning to Packaging as Financial Planning Analyst.
Teo Joo Huat joined us in June 1996 as QA Inspector and subsequently moved to the IPD Department as Supervisor. A man of few words but full of creative ideas, Teo is very motivated and passionate about his job.
Yap Hong Kee joined us in July 1996 as Packaging Designer and now is our Senior Design Engineer. She shares that the business unit's warm-hearted culture and open door policy have made working here a joy!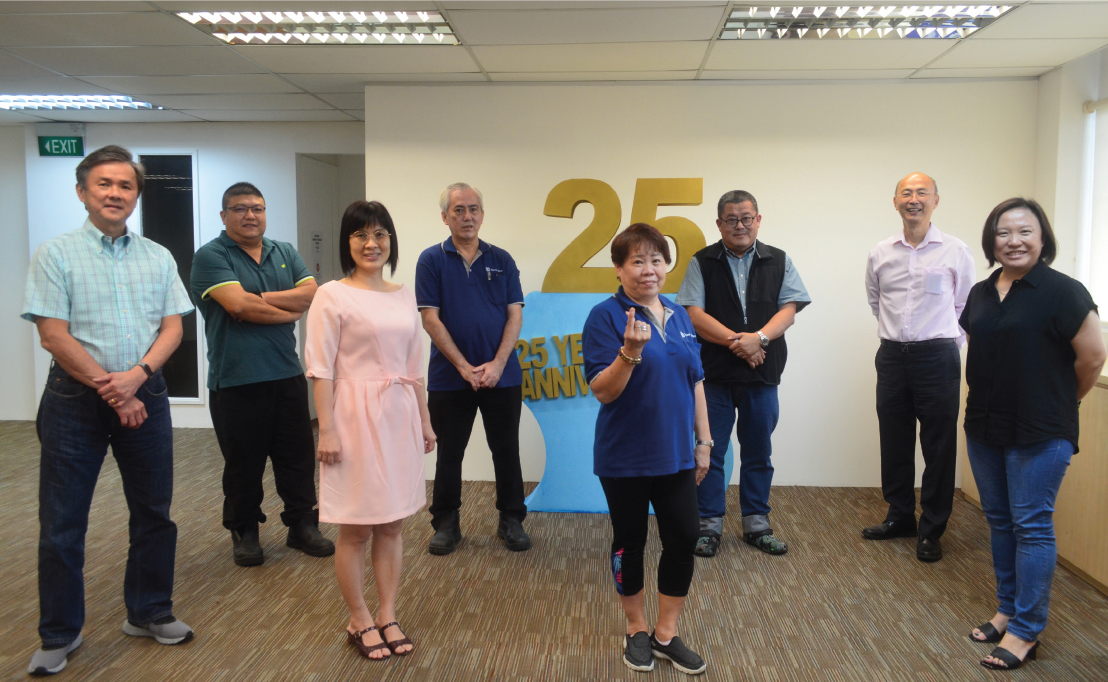 MALAYSIA
Celebration held on December 16, 2021!
It's a well-loved tradition in Jebsen & Jessen to celebrate employees who have reached their 25-year service milestone with the Group.
Pik Leng Chan, joined Jebsen & Jessen in 1996 as a fresh graduate. As a System Administrator, she has a chance to work with everyone in the company. Pik Leng's extraordinary talent for working with people across the department and, indeed, across the company makes her an "effective liaison for the department", colleagues say. In the blink of an eye, it's been 25 years!
Ho Pek Yin's career journey with us straddles four different entities. Most recently, in 2020, when the Group established the Hub as a shared service centre, she was re designated as RTR Process Manager.
Pang Siew Ling first joined Electra Communications before moving to Jebsen & Jessen Engineering to provide central financial services to all engineering companies in Malaysia. She was promoted to Senior Accounts Executive in 2008 and re-designated as RTR Analyst when the Hub was established.
Jeff Cha also started with Electra Communications before joining Jebsen & Jessen Engineering. He was involved in the conceptual design and implementation of the SAP ERP systems in the 1990s. He put in a lot of effort during the big move of the Jebsen & Jessen Malaysia companies from the old location to where they are now (UOA Business Park), by ensuring that the IT server and cabling for the various floors are ready for business when all the employees move in. He was part of the implementation team for the Group's SAP ERP system for its Indonesian companies. In 2004, Jeff was appointed as the Group's IT trainer.