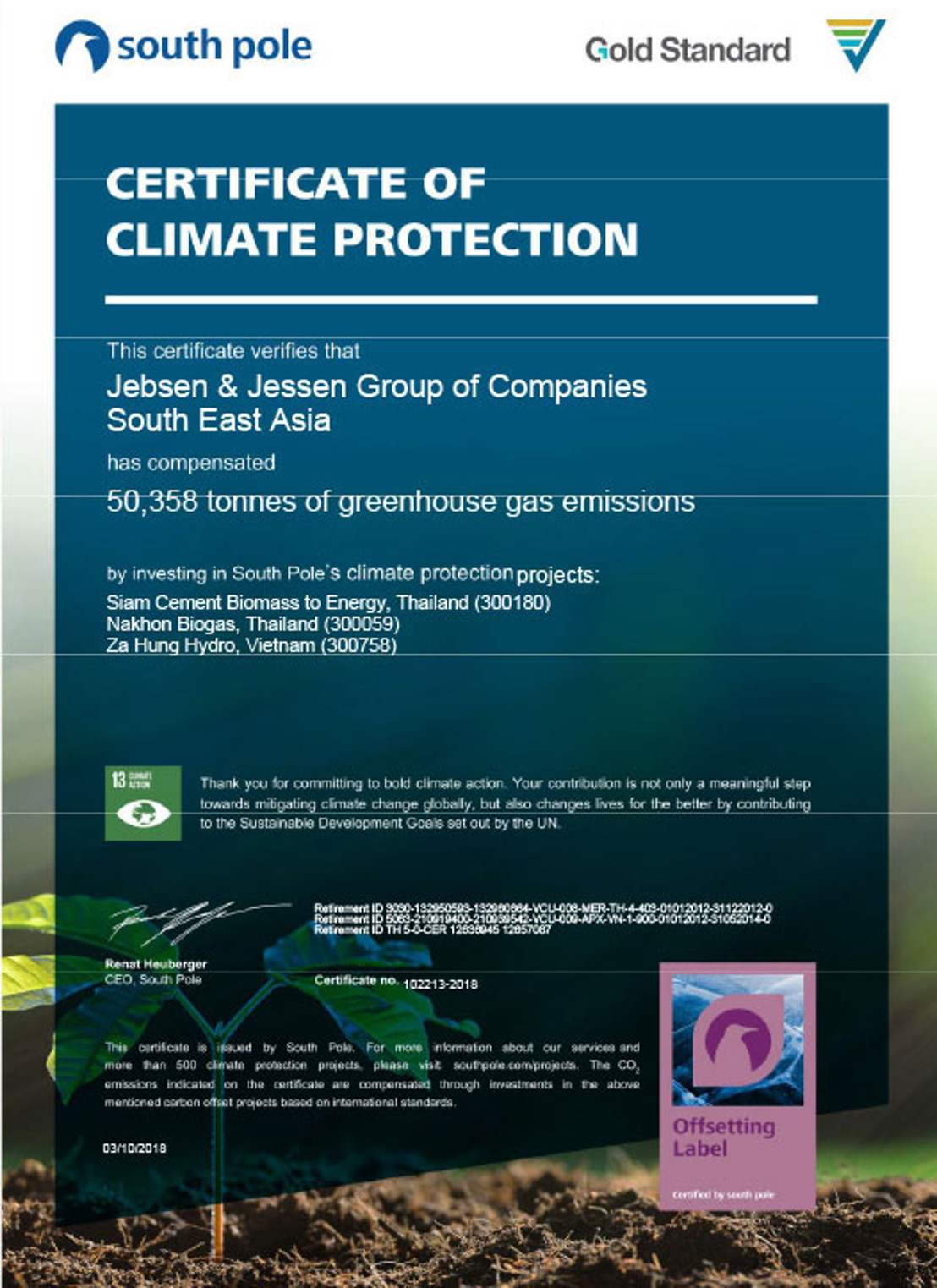 Achieving Carbon Neutrality
How Jebsen & Jessen became the first carbon-neutral industrial company in South East Asia
May 2018- In 2011, we made history as the first industrial company in South East Asia to achieve 100% carbon neutrality. It is a feat for an organisation of our size and scale to have been able to measure and minimise our group carbon emissions to an efficient level, then offset the remaining emissions with carbon credits from high-quality, verified carbon offset projects around the world to achieve a net zero carbon footprint.
We have offset around 350,000 tonnes of CO2 since 2011 using a disciplined, three-step approach.
Step 1: Calculating our carbon footprint
Understanding the impact of our operations on the environment is the first step in identifying ways to neutralise our footprint.
Through a systematic approach to measure our group-wide carbon emissions, we have been able to establish the Group's annual carbon footprint.
Step 2: Minimising our carbon footprint
Having established our carbon footprint, we take various energy efficiency initiatives to minimise this. This includes a group-wide effort to replace high-carbon with low-carbon energy sources.
Step 3: Offsetting our carbon footprint
Finally, to address the carbon emissions that we are unable to remove in a cost-effective way (which currently stands at around 50,000 tonnes per year), we purchase carbon offsets. This effectively means that we pay for the equivalent amount of carbon dioxide to be removed from the atmosphere by a third-party project to offset our own carbon footprint.
We only invest in high-quality, verified carbon offset projects that make a tangible positive impact on the local communities where they operate. These projects are verified and validated by Bureau Veritas and other international accreditation bodies.
To this end, we partner with South Pole Group, a world-leading emissions reduction project developer, to select projects in our region that offset our carbon emissions and have a track record of making a tangible positive impact on the local communities.
The first project that we support is the Siam Cement Group Biomass in northern Thailand, which involves the modification of five cement manufacturing plants to use renewable biomass instead of fossil fuels.
The second is the Za Hung Hydropower project in Vietnam. This project bridges the gap between energy supply and demand in the country through renewable energy. In addition to environmental benefits, Za Hung Hydropower has created permanent jobs for the locals and funded the construction of new roads and houses.
Our third project is the Nakhon Biogas project in Thailand that captures methane, a pollutant and by-product of a local cassava starch factory. The captured methane is then used as cleaning fuel for the factory to reduce the production of greenhouse gases. Clean wastewater is also recycled as irrigation for local farmers and to serve water reservoirs.
Our approach to carbon neutrality comes from our commitment to our people, our communities and our environment. We hope to inspire more people and businesses to do their part to prevent global warming.