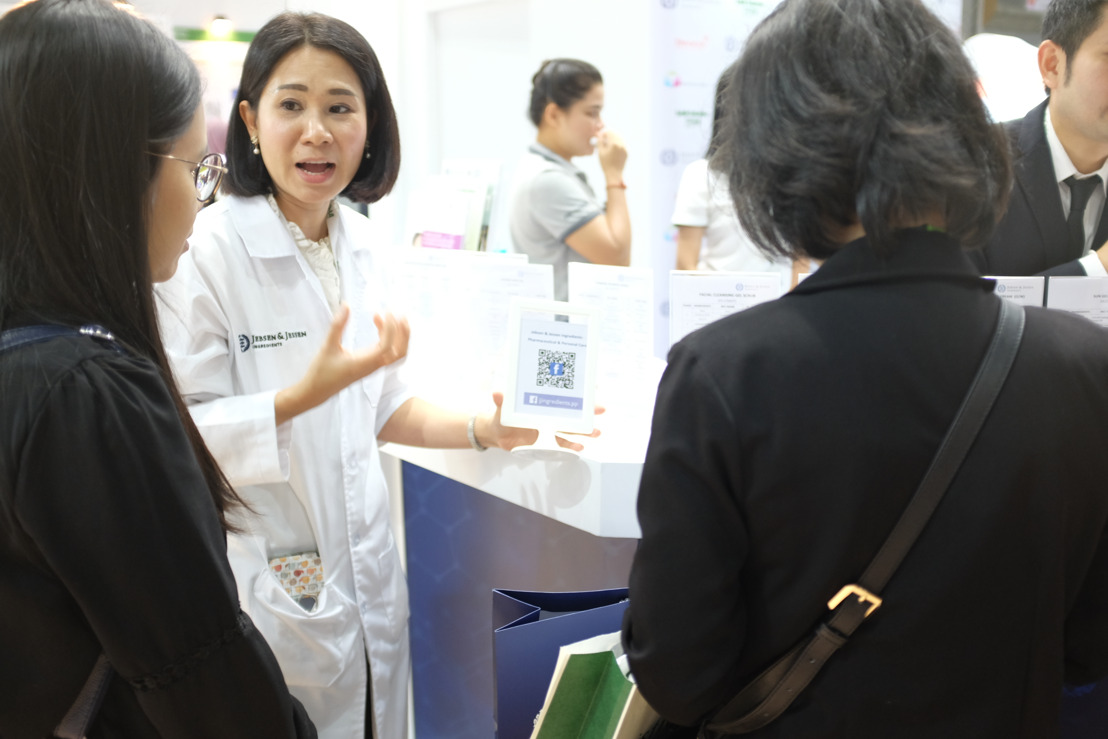 Exhibitions & Tradeshows Around the Region
Bangkok: Enriching Beauty at in-cosmetics Asia 2017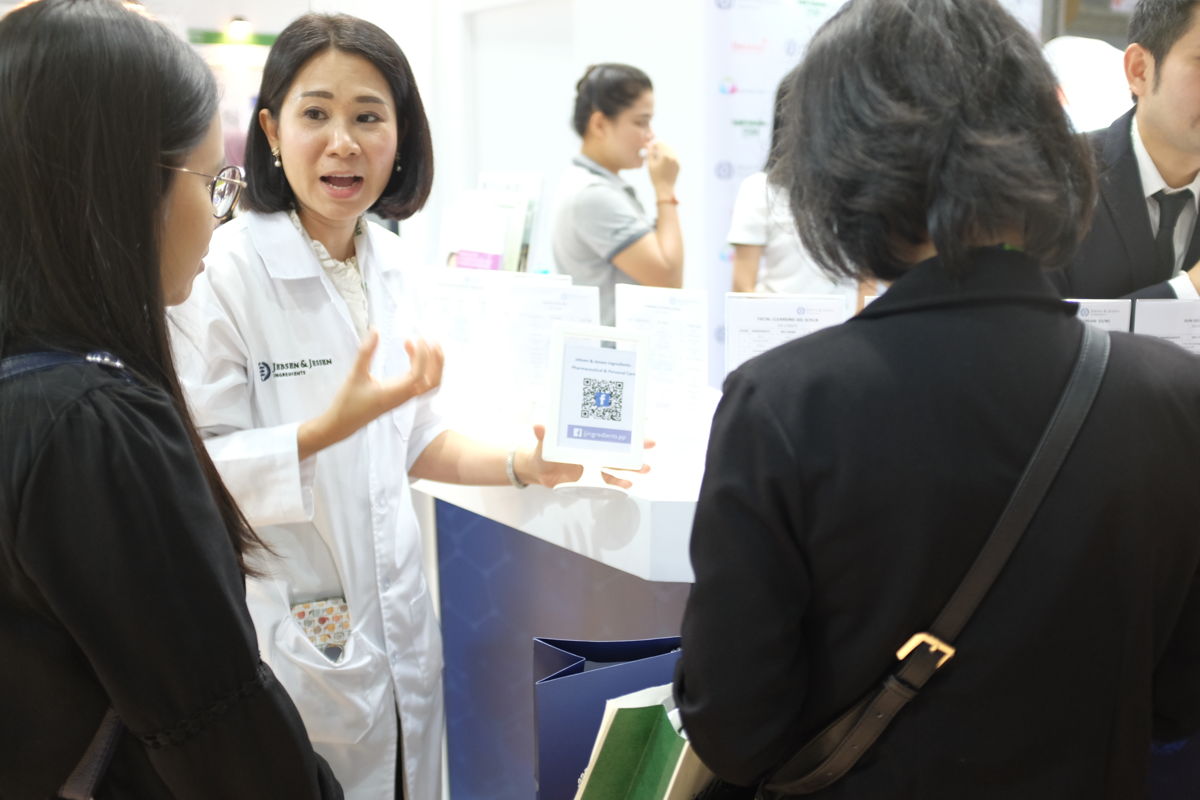 Nov 2017- Industry reports place Asia is a leading beauty market, accounting for 51% of the world's skincare sales. To enrich consumers' lives with better personal care products, Jebsen & Jessen Ingredients, together with partners Schill & Seilacher (S+S), Innovacos and Elevance, participated in in-cosmetics Asia 2017.
At the three-day industry tradeshow, the team presented 16 guideline formulations developed by an in-house Technical Lab Expert to showcase the different applications of daily personal care products including facial cleansers, anti-wrinkle serums, mouth wash, sunscreen, toothpaste for hypersensitivity, roll-on deodorant and more. The Jebsen & Jessen Ingredients booth became an experiential destination for customers to understand the latest trends and technology products, and to visualise the role that these ingredients play in the finished product.
"This year, we presented formulation prototypes that were developed in our labs. This is a key differentiating factor that sets us apart from the competition. I am confident that this will help bring our personal care business to the next level," shared Mildred P. Reyes, Regional Portfolio Manager, Personal Care, Jebsen & Jessen Ingredients.
Bangkok: A New Malt Experience at Fi Asia 2017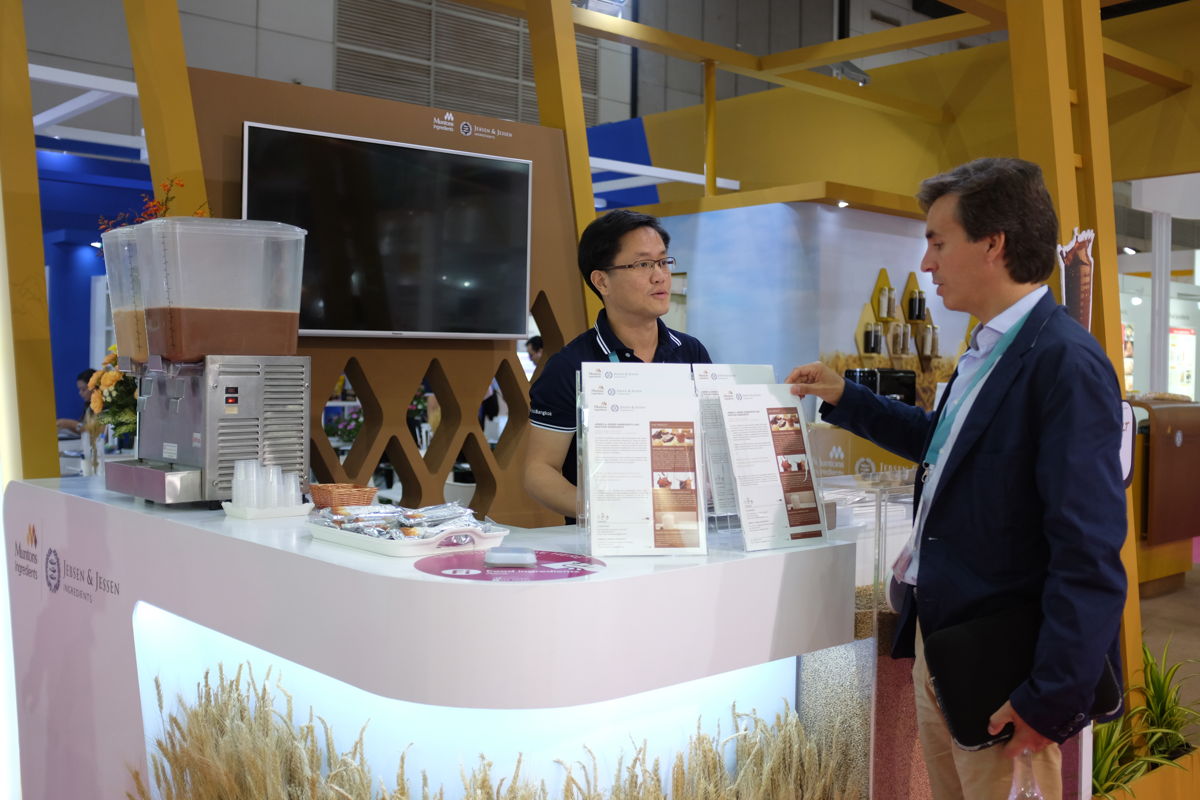 Sep 2017- The 20,000 industry visitors that joined Food Ingredients (Fi) Asia 2017 enjoyed a preview of Jebsen & Jessen Ingredients' latest product, MaltiCrunch. Developed in partnership with JJ-Muntons, MaltiCrunch is a malted chocolate powder prepared with delicious chunks of malted chocolate. The crunch adds body, texture, mouth feel and greater enjoyment to the malted chocolate eating experience, which also contains the health benefits of malt.
At the partners' booth, visitors discovered how MaltiCrunch can be an innovative addition to a wide range of food products, from cookies and cakes, to spreads and more. They were served tasting portions of malted chocolate milk drink, soft serve ice-cream, MaltiCrunch spread, chocolate muffin, malt waffle, and more — all meticulously prepared by the technical lab team from JJING Consumer Industries Innovation Centre.
MaltiCrunch is manufactured in JJ-Muntons' Thailand factory, which is HACCP and GMP certified as well as Halal certified by The Central Islamic Council of Thailand. At the same event, solutions from partners Fromatech and Evonik Industries were also exhibited at Jebsen & Jessen Ingredients' booth.
Taipei: Connecting with the Logistics Industry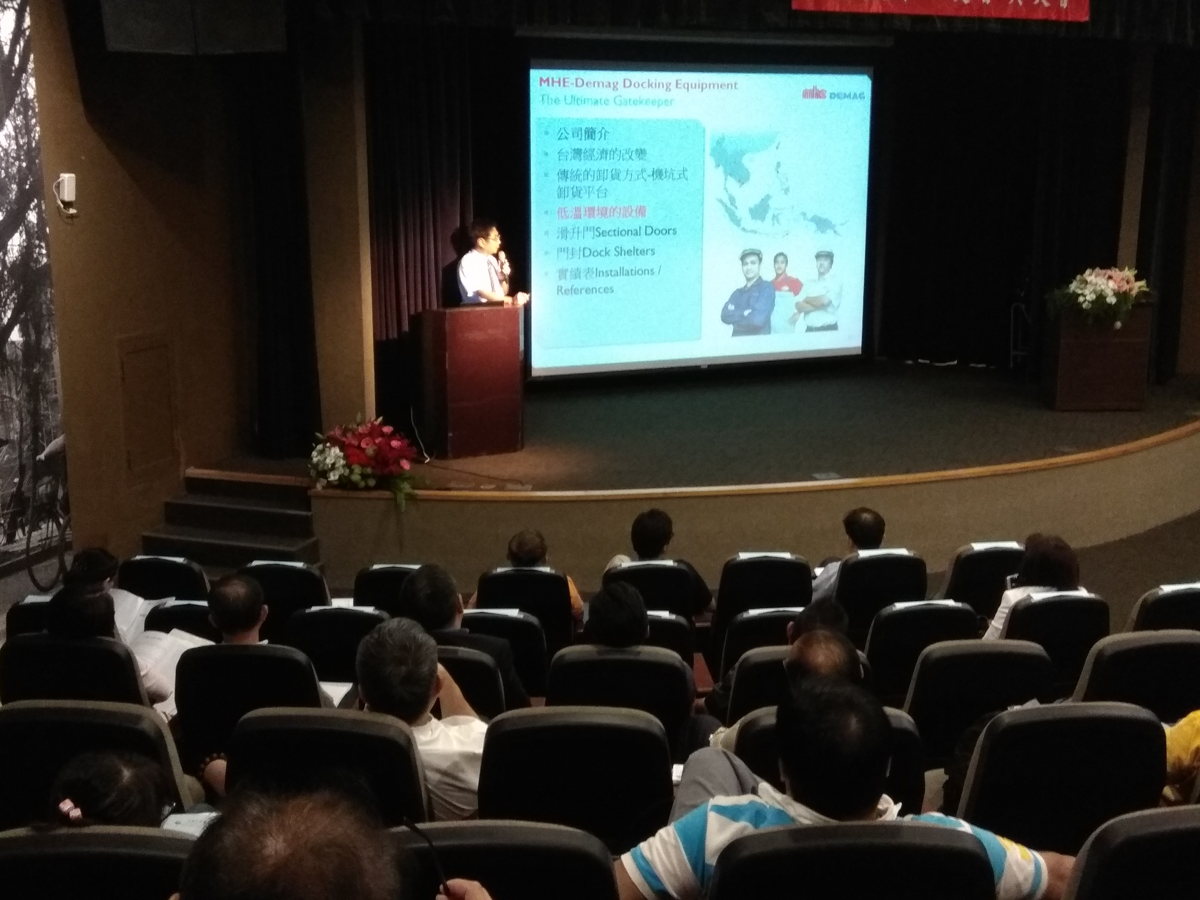 Sep 2017- MHE-Demag was a proud sponsor of the 22nd Annual Meeting of the Taiwan Association of Logistics Management in Taipei, Taiwan this past September. Its participation allowed it to connect with approximately 100 members of the local logistics and related services industries. To effectively promote its IPD products and establish leadership in the area, the team also secured a presentation slot to share their insights on industry trends and warehouse management.
Jakarta: Building the Future at Indonesia Infrastructure Week 2017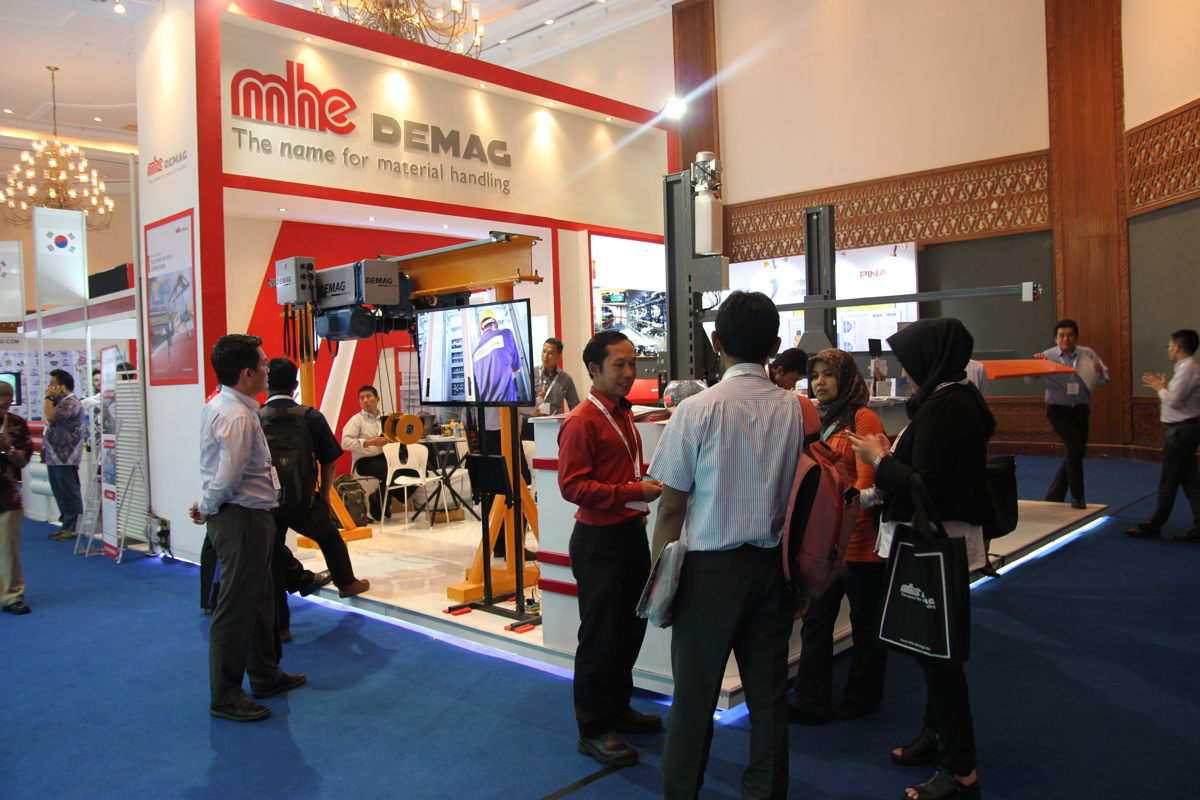 Nov 2017- At Indonesia Infrastructure Week, the country's only event dedicated to advancing infrastructure, MHE-Demag chose to headline its participation with its car park system, Doppeldecker. The team performed a live product demonstration, which attracted many visitors to its booth. Taking this opportunity to stimulate interest, reinforce market leadership and address common concerns made the show a fruitful one for the business.
Makassar: Debuting at Makassar Industrial Expo 2017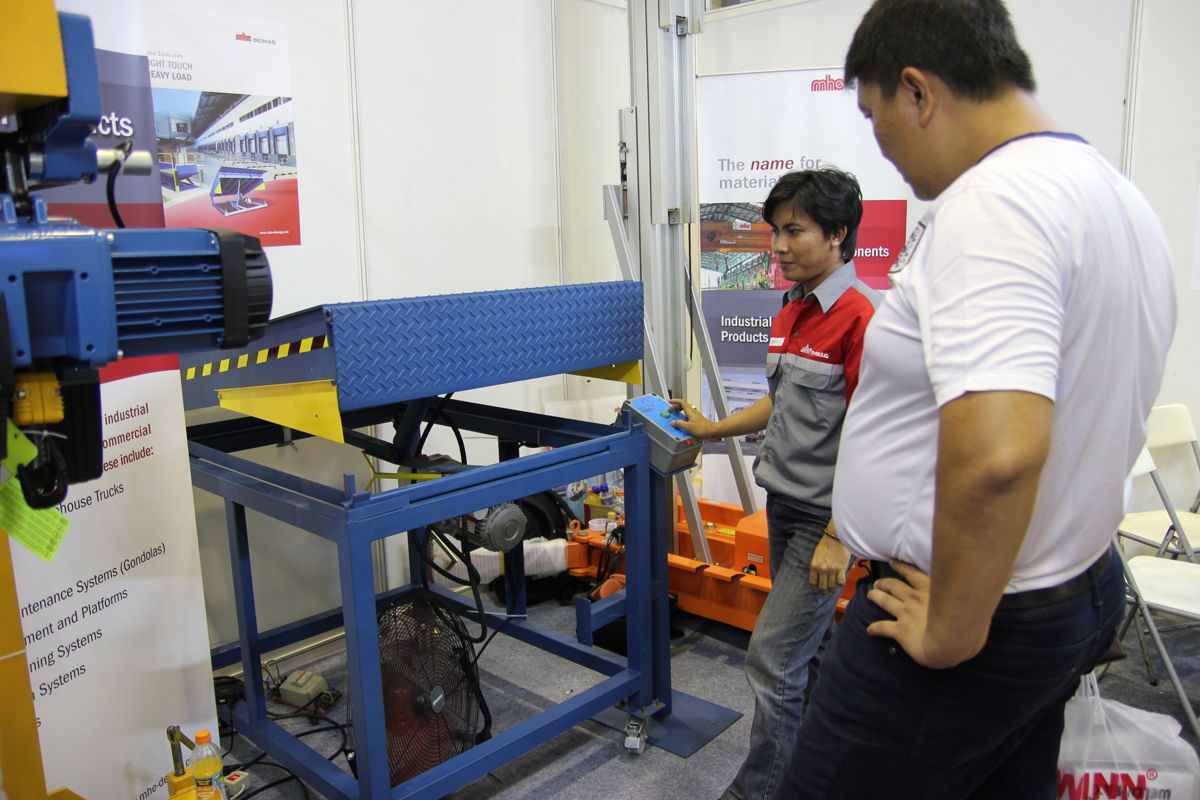 Nov 2017-When Makaassar city in Indonesia had its first privatelyheld industrial exhibition in November 2017, MHE-Demag was there to lend its support. The show welcomed about 25 exhibiting companies in total, ranging from heavy equipment providers to logistics and conglomerates. It was an opportunity for MHE-Demag to connect with fellow industry players, engage existing customers and reach out to new ones.
Cebu: Supporting the Sugar Industry with Solutions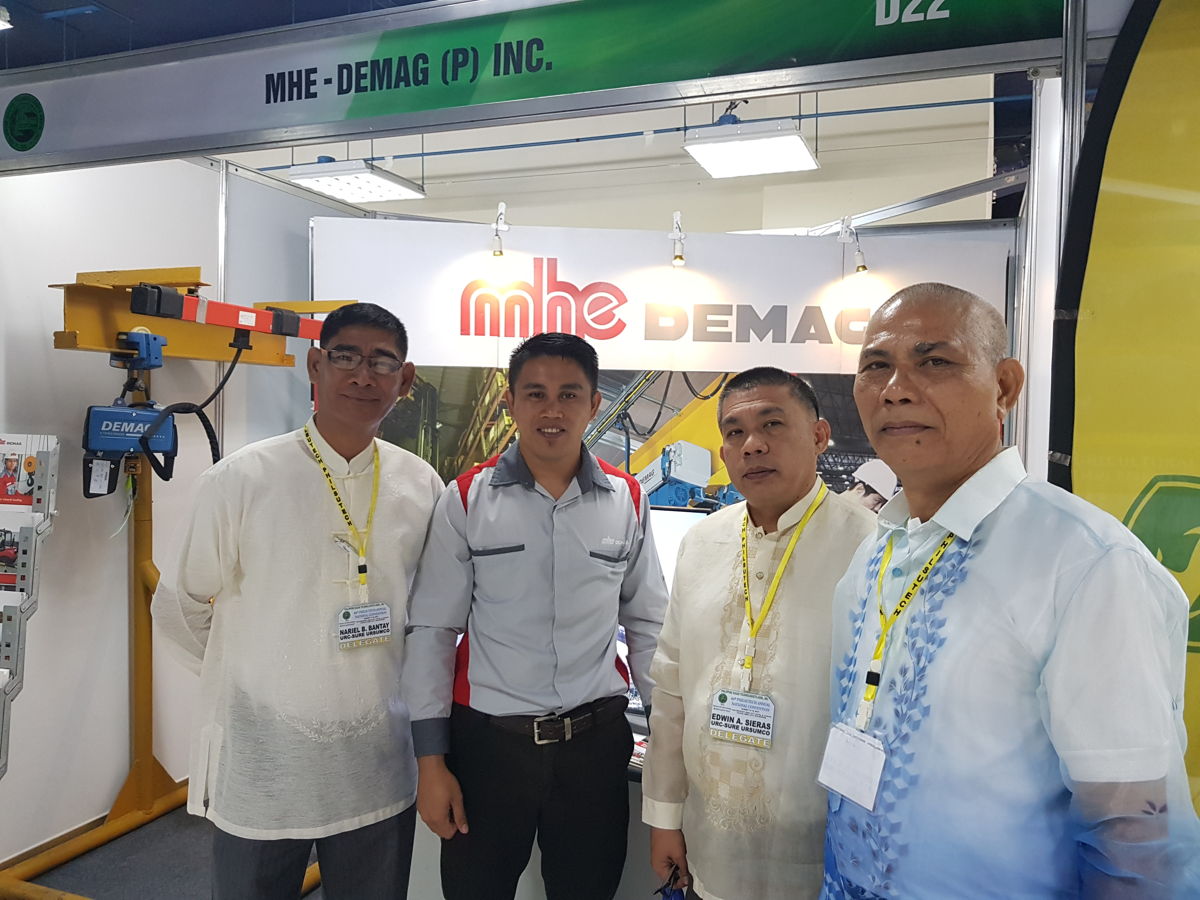 Aug 2017- The 64th PhilSuTech Annual National Convention in Cebu City was a national gathering of sugarcane technologists, sugar millers, sugarcane planters, ethanol distillers, bio-energy and providers of services, products and equipment for the Philippine sugar industry. As an exhibitor, MHE-Demag showcased its material handling products in line with the theme "Resiliency in the midst of challenges affecting the sugarcane industry".
Cebu: Innovation in Building Maintenance and Car Parking Solutions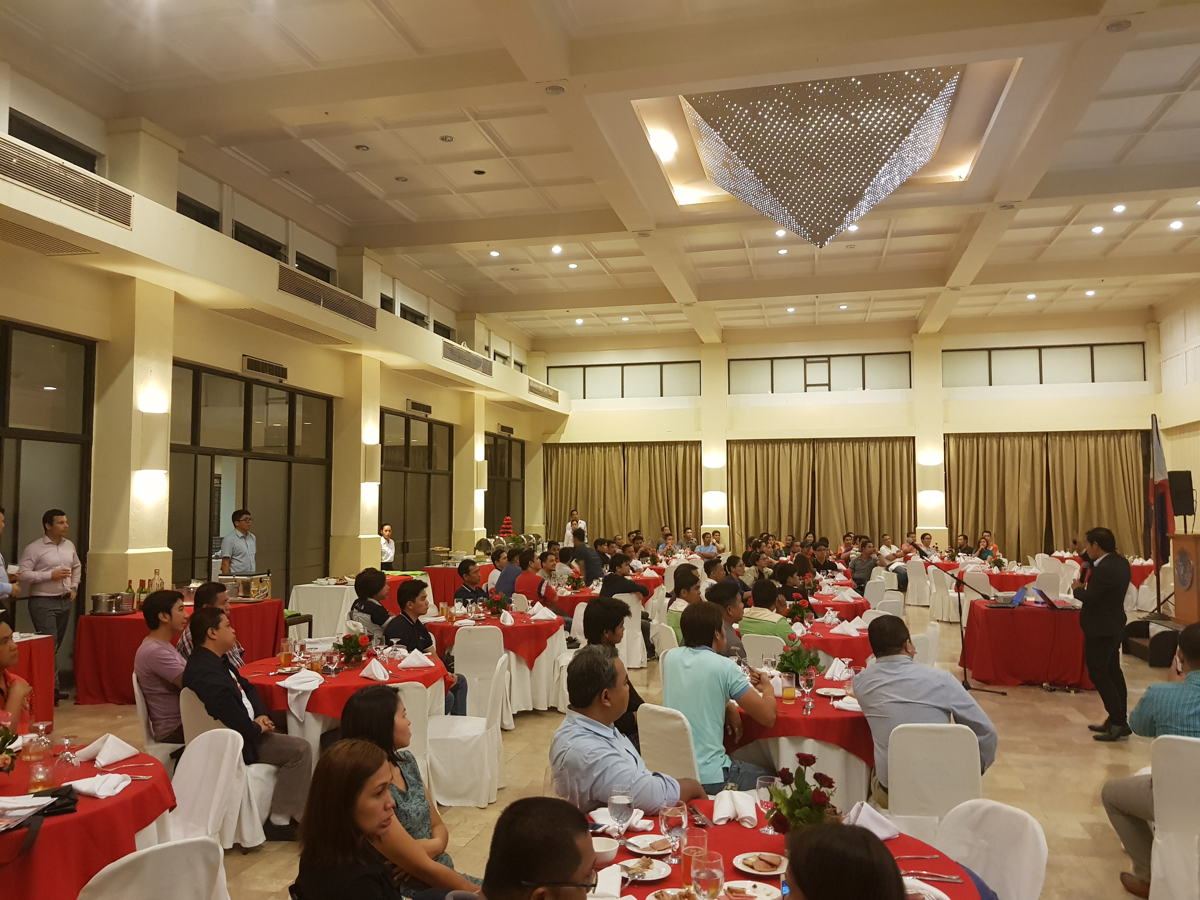 Aug 2017- MHE-Demag hosted an in-house Building Maintenance Unit (BMU) and car parking seminar in Cebu focusing on innovation and safety. Through the expert sharing of regional leaders from MHE-Demag, Philippines, participants learnt about the latest innovations in BMUs and car parking systems, including best practices in applying and maintaining such solutions.
Pasay: Moving the Philippines at Transport and Logistics Exhibition 2017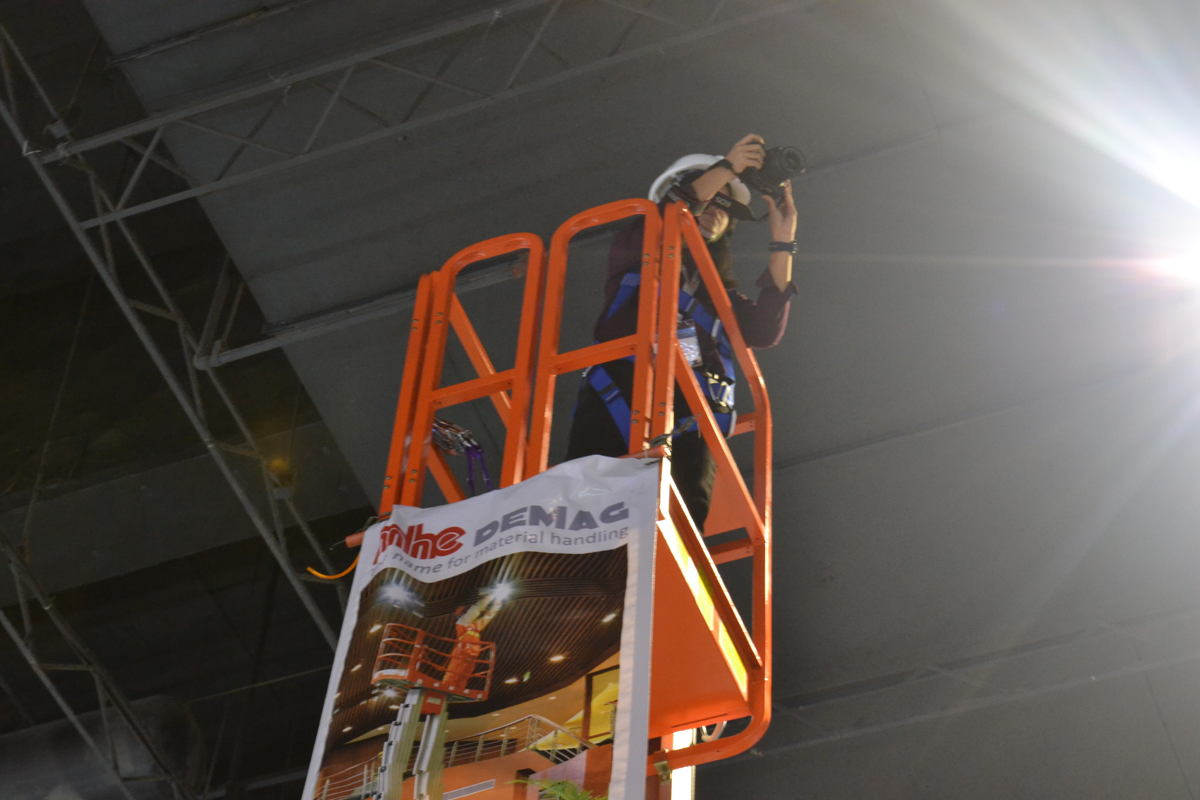 Aug 2017- The MHE-Demag team joined the Transport and Logistics Exhibition in Manila, Philippines in August. For the country's leading trade show for trucks, commercial vehicles and supply chain solutions, MHE-Demag chose to team up with its local partner Motolite, the top industrial battery brand in the Philippines. Together, they showcased a range of lift trucks at the show, which ran for three days and sees an average footfall of 40,000 visitors.