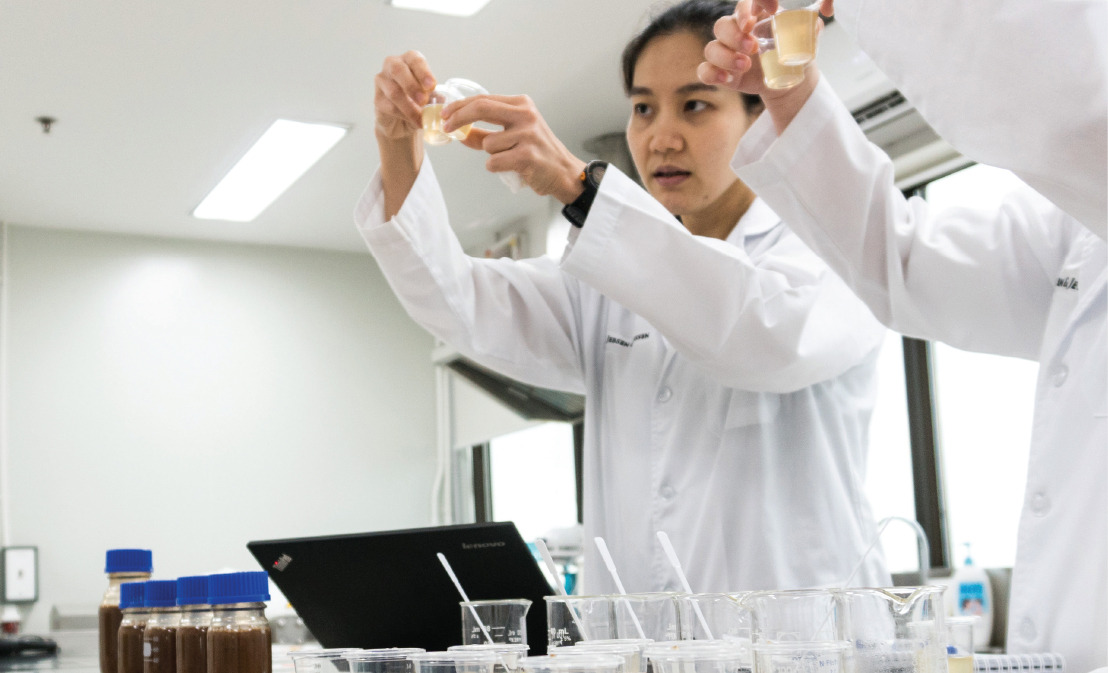 Innovating for Growth
Jebsen & Jessen Ingredients gets creative with food and beverage solutions
Jebsen & Jessen Ingredients is making a shift from being an ingredients provider to being a total solutions provider for our customers. This strategic move, which is crucial to supporting the long-term growth of the business, is built on a foundation of continued innovation.
Excellent examples are emerging in Thailand and Indonesia, where the food team led by Ratana Vongmukdaporn, Regional Business Line Head Food and PP, Thailand and Wantida Sopiskhaukhan Technical Manager has leveraged its food technology and spirit of innovation to create added value for our customers.
Identifying opportunities
As consumers in South East Asia and China increasingly demand veganised and healthier alternatives to their favourite foods, the food technicians at our Regional Consumer Innovation Center in Thailand have been busy crafting innovative new formulations to satisfy current and future market trends.
The team has been exploring and creating vegan versions of common savoury dishes such as omelettes, cheese spread, burger meat patties and more, with amazingly similar taste and appearance.
Another growing trend that our food team is actively addressing is that of functional ingredients, such as probiotics, collagen, and vitamins. This comes as consumers show increasing preference for food and beverage options that provide more than one benefit.
All the delicious creations that they are cooking up are based on quality ingredients sourced from our key partners. In Indonesia, for example, our food team has managed to capitalise on the increased popularity of cheese through their partnerships with leading cheese culture and cheese solutions providers, supporting the manufacturing of soft, semi-hard, hard, blue, stretched-curd, and white cheeses. Despite being a non-native food, the demand for cheese has risen after traditional Indonesian dishes have been "updated" to include international flavour profiles.
Resolving challenges
Staying on top of the ever-evolving consumer preferences and capitalising on emerging market trends requires local presence, experience, and expertise. Strongly rooted in each market that we serve, our food teams have a deep understanding of the local landscape. This enables us to work in tandem with our customers and business partners to take full advantage of the latest market trends and future growth opportunities. To remain competitive in today's marketplace, our teams also work closely with principals to constantly push the boundaries of food and beverage innovation.
Building a reputation
Trust has always been a cornerstone and a core value for Jebsen & Jessen. In the realm of food innovation, it matters even more. Through our work, we are steadily building our reputation as a trustworthy and innovative total solutions provider. Every day, our teams work in close partnership with our customers, offering innovative ideas so they can launch break-through products in their markets — because when our customers succeed, so do we!