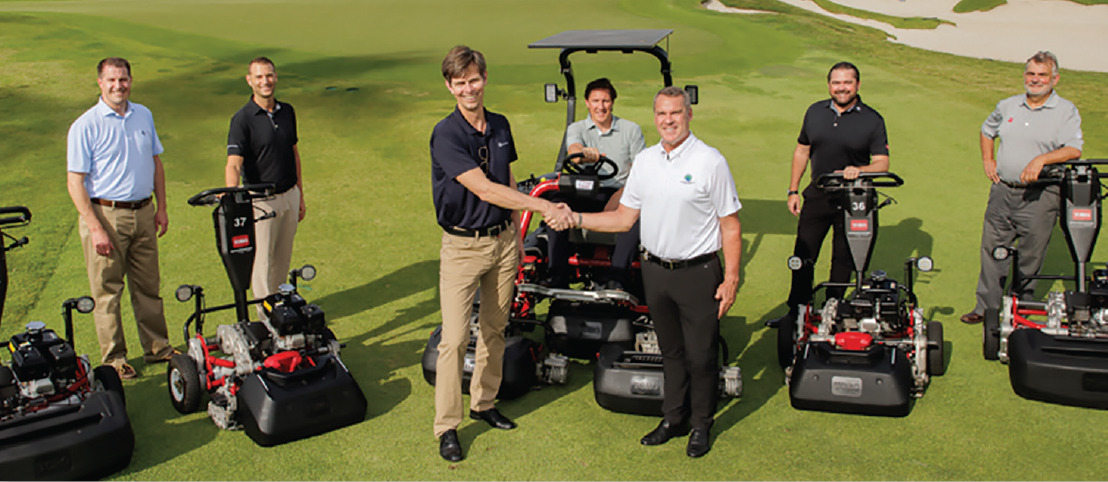 Product Innovation at its Finest
Jebsen & Jessen Technology - Turf & Irrigation Division introduces a proprietary solution for golf bunkers and enters a new partnership agreement with the Toro Company and Sentosa Golf Club
Already established as a leading supplier for golf courses around the region, Jebsen & Jessen Technology's Turf & Irrigation team has created a sterling new name for itself with the unveiling of an innovative new proprietary product: SandStop™.
The porous rubber liner is designed to ensure the long-term quality of golf bunkers, providing golfing industry a highly durable, cost-efficient, and safer bunker lining solution that is also easy to install and maintain.
SandStop™ has been installed at several golf clubs in Singapore and Malaysia, at which significant improvements in the maintenance and gameplay fronts have been observed. A great example is the historic Royal Selangor Golf Club in Malaysia, where the installation of Sandstop™ bunker liners has helped lower bunker maintenance costs and improved play quality, providing its members with a premium golfing experience.
A new partnership, par excellence
Building on its industry success, the team has secured a record-breaking contract from Singapore's prestigious Sentosa Golf Club as part of a new three-way partnership agreement with the Toro Company.
The agreement goes beyond the supply of complete Toro equipment and irrigation solutions by Jebsen & Jessen. It also ensures that Sentosa Golf Club has the support of Jebsen & Jessen's technical service team as well as regional expertise from the Toro Company. An on-site Toro service manager will also be based at the club, establishing a state-of-the-art workshop that will serve as a model for the company.
Sentosa Golf Club's commitment to environmental excellence, the Toro Company's passion for providing the golf industry with leading hybrid and electric solutions, and Jebsen & Jessen's achievement as the first industrial conglomerate in South East Asia to achieve full carbon neutrality are all aligned to push the boundaries of environmental sustainability across all aspects of the golf industry.