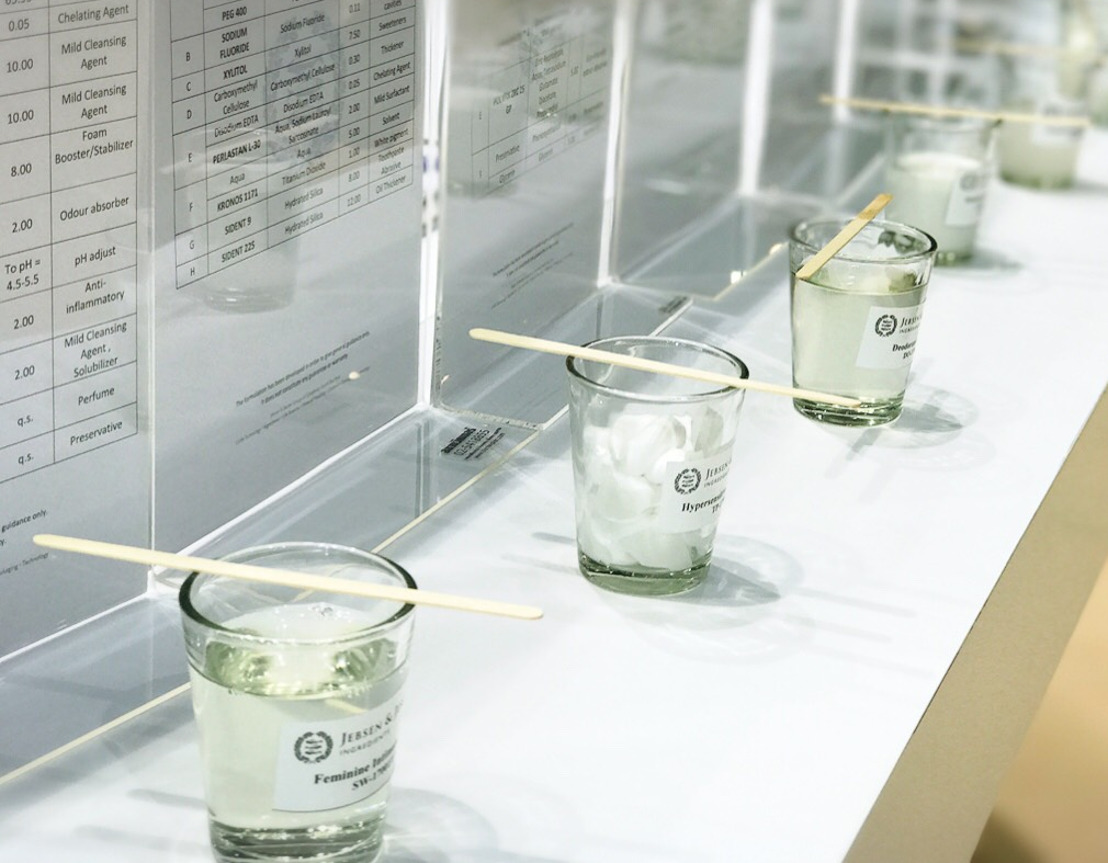 Sharing our Innovation Expertise
New personal care formulation guidelines help customers create innovative products
Feb 2018- Asia is the world's leading beauty market, accounting for 51% of global sales, and ASEAN is home to a fast-growing consumer population with a penchant for beauty and personal care products. Market opportunities are plentiful, but many small and mediumsized companies lack the marketing and research budgets of their larger competitors.
To give them a boost, Jebsen & Jessen Ingredients (JJING) has developed and launched a series of guideline formulations. These will enable personal care companies to create new products to meet the changing needs of consumers.
The 16 guideline formulations were developed by our in-house team of technical lab experts at the JJING Consumer Industries Innovation Centre in Bangkok, Thailand.
First showcased at in-cosmetics Asia in November 2017 and recently launched at Indonesia Cosmetics Ingredients 2018, the formulations cover a range of personal care and skin care products including, but not limited to, facial cleansing gel scrubs, anti-wrinkle serums, mouth spray and mouthwash, scrub massage oils, sunscreen lotions, intimate feminine care, toothpaste for hypersensitivity, and roll-on deodorants.
"The formulation prototypes that were developed in our labs are a key differentiating factor that sets us apart from the competition. Using specialty ingredients from leading brands such as Innovacos and BioNest, we help our customers to innovate, and adapt faster to the dynamic and growing ASEAN markets," said Marc Deschamps, Regional Managing Director, Jebsen & Jessen Ingredients.
The Home of Innovation At the JJING Consumer Industries Innovation Centre, customers are welcome to work with Jebsen & Jessen Ingredients' in-house specialists to adapt the formulations to their needs while learning about the latest industry trends and technology products, and visualising the role that ingredients play in a finished product.
Customers are already expressing interest in several key product formulations, including the anti-wrinkle serum ReGENESEA™ LS. This is designed to help reduce the appearance of fine lines within 15 days while boosting skin hydration and strengthening the skin's barrier.
Meanwhile, customers looking for organic sunscreen to meet a steadily increasing demand for natural products are turning to SunCat (encapsulated organic sunscreens dispersion), which provides comprehensive UVA and UVB protection. It uses popular organic sunscreens butyl methoxydibenzoylmethane and ethylhexyl methoxycinnamate in a stable and easy-to-use dispersion.
Other applications, like Bioptimised Guava for acne-prone and sunburnt skin, Polyaquol 2W for improved skin condition and Ginsenolite G for skin brightening were also introduced at Indonesia Cosmetics Ingredients 2018.
"Our 600-sqm regional Consumer Industries Innovation Centre is conveniently located in Bangkok, Thailand. It provides regional customers and suppliers with value-added services like research and application development. Together with our supplier partners, we look forward to welcoming cosmetic companies in ASEAN to work together with us and gain insights into product functionality and synergies via a 'hands-on' experience," added Mr Deschamps.